Quick and solid clumping
Easy to scoop, no breaking, no sticking
Low dust, high absorption
Available in 1.5mm/2mm/3mm/4mm
MRC tofu cat litter has the feature of high water absorption, fast clumping
and quick odour locking
Why choose Tofu
cat litter?
Cats spend 70% of their lives eating
cat litter when licking fur after toilet
Edible
Made of
Natural plant materials
Not afraid of eating by mistake
Toilet Flushable
Easy to clean up
Hassel free
Dust free
Advanced dust removal
technology
we provide wide range of scent choice and OEM scent
Founded in 2015, as one of the earliest manufacturer of tofu cat litter in China, MRC Cat Litter is focusing on R&D and he production of high quality biodegradable tofu cat litter.MRC insists on using natural food grade raw materials without any chemical additives.Our products export to countries all over the world, especially in Europe, Southeast Asia, Australia, North America and South America. Besides, our factory has passed the IS09001 and BSCI audit. We can make sure that our products are high quality, competitive price and on-time delivery. Our commitment Use only natural food grade raw materials, ensure the safety of raw materials from the source. Our vision: In addition to supplying premium quality plant cat litter, we are dedicated to expand our product range and provide eco-friendly, healthy and suitable cat litter products for cat parents worldwide.


Clean and fill the litter box
upto 5-7 cm deep
Upon contact animal waste,
it forms into small climps
Simly remove the clumps
with a scoop, flush into toilet
Refill the litter box to keep
same depth, clean regularly
Professional Tofu Cat Litter Manufacturer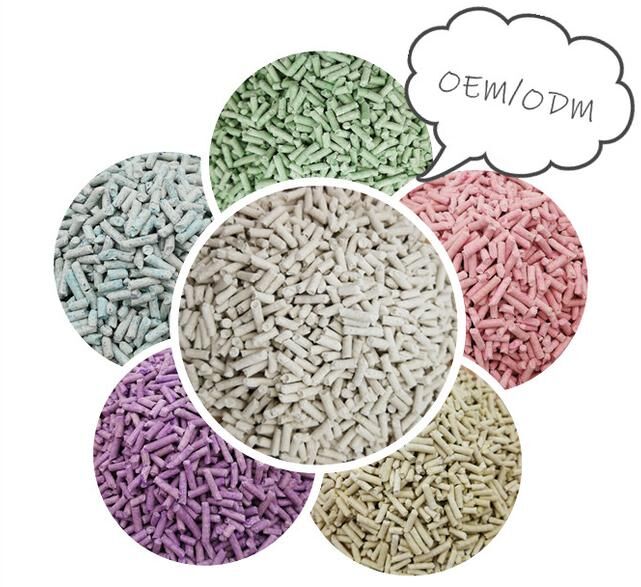 Product Name Plant Tofo Cat Litter
Main ingredients 100% food-grade soybean dregs, corn starch, guar gum
Appearance Strip
Packaging In bulk bag or small private label bag as customers' requirement
Diameter 3±0.5mm
Humidity ≤10%
Density 500-550g/L
Water absorption ≥300%
MOQ 20GP
Lead time 30days
Storage conditions in ventilated and dry place
Shipping port Qingdao, China
Disposal: Nothing should be flushed to sewer aside from the 3 P's (pee, poo and paper), therefore we recommend using genneral household waste or compost for disposal of MRC litter.
1. Pour 5-7cm MRC cat litter into clean cat litter box.
2. When cat excrete, MRC cat litter will absorb excreta quickly. Scoop out solid waste clumps by cat litter scoop.
3. Add fresh cat litter in time. Replace with fresh MRC cat litter every month and keep a depth of 5cm.
Notes:
1. If cat swallowed tofu cat litter, it is no harm to cat's body.
2. After opening cat litter bag, please use it as soon as possible. Because of good absorption.

Please do not put unused cat litter in wet environment, in order to avoid influencing using effect.